Free range eggs for $2 a dozen is a rare treat these days. It seems everything has gone through the roof at the supermarket. I picked these up on super special with a 'use quickly' time frame.
So I cooked muffins, racks and racks of sweet and savoury muffins - yum!
We will be taking muffins for lunch every day this week and no we probably won't get sick of them because they are
yummo
!
Started of with banana muffins and then sultana muffins followed by some bacon, cheese and corn muffins!
All in all 50 muffins which bought at the supermarket would have cost around $62.50 (average price $1.25).
With our $2 eggs and other
home brand
delights we have managed to make stacks of muffins for around $18.00 or .36c per muffin!
Basic muffin mix:
2 cups SR flour
2 eggs
1/2 cup milk
1/4 cup canola oil
1/4 cup sugar
The beauty of muffins is you can actually just toss it all in give it a quick mix and voila! I am a very 'rough' cook and toss in bits and pieces to see what I end up with.
The above recipe will make 6-8 medium/large muffins depending on what you add - fruit/savoury etc. Or for smaller children make bite sized muffins they are really good too!
For our first batch we added 2 mashed over-ripe bananas (yes those ones that would normally hit the bin!). A sprinkle of rolled oats over the top of each muffin before popping in the oven gives it that professional muffin finish.
Next batch we added a cup of sultana's, you can add more or less, depends on your personal taste, for my girls there is NEVER too many sultana's.
Finally I did some savoury muffins, a couple of
handful's
of diced bacon, 1/2 cup or so of defrosted frozen corn and 1/2 cup grated cheese.
I usually buy bacon already diced from the deli section of the supermarket as its usually cheaper than buying rashers and chopping it your self. Also, I always grate my own cheese straight from the block as it is a lot cheaper. For savoury muffins you can use your imagination to add extras if you want, I quite like some chopped
sun dried
tomatoes added to the mix. A
sprinkling
of grated
cheese
to the top of your muffin before popping in the oven is a must as well.
We are living in an ancient rental at the moment while waiting for our house to be built and the oven truly leaves a lot to be desired - think old electric with
shonky
fan! And I can
still
make muffins! I cooked ours at 200c for around 12 minutes each.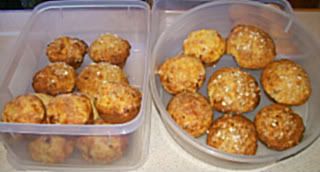 Photo taken mid cook - we have
wayyyy
more muffins than this!