Is nearly at its end and I honestly

don't

know where the time is going. I have holidays over Easter, only 10 days but let me tell you it is absolutely the most well deserved ten days I can think of.

I am taking the younger four girls down to Hobart for the week and we are just going to kick back and relax, a day at the aquatic centre (yes

cellu

-lots and all),

iceskating

, a trip to the

cadbury

factory (

mmmmm

) and the educational part of it being a trip out to Pt Arthur for the day.



I'm

thinking we will leave on the Monday and stay in

Launceston

on the way down, spend the day at Cataract Gorge, there is a caravan park outside of

Launnie

that we like staying in as they have a huge family spa you can book.

Head down to

Launnie

and stay T,W,T & F, head home on Saturday. Sam cant come, but you know what I am NOT going to feel guilty for a second, I really need a break.

Things have just been so hectic with work/girls/

Danielle

, sometimes its an effort to stop the little old head from spinning. Work is just so busy, but its a good busy because I truly LOVE working there and still wake up with a little buzz every day that I got the job, I think if its been six months and the buzz

hasn't

worn of

that's

a really good thing. Funny thing is I am still the same person as I was six months ago but my life then was being dictated by the misery I felt in my old job, in truth it was really making me depressed and grinding away at my self esteem. Now

theres

only the 'fat' issue and the 'past' issues to deal with, and

aint

that 'fat issue' a

pearler

because that is something that cant be fixed overnight! As for the 'past issues' oh I am

sooo

not ready, I wonder if I will say that till I am 50?

The girls rang me at work the other day and they where doing the normal 'dob on her before she dobs on me' thing, its no issue with my new job getting calls, I have my own number so its all good. Anyway I wrap up the call with them, and the guy that sits next to me says 'do you EVER yell or get upset with them?' And

I'm

like 'well yeah course' and he says 'I just cant imagine it', I was gobsmacked and pretty darn pleased he

isn't

a fly in the wall in my house let me tell you!!! I thought about it a lot and thought WOW, are there really parents that just

don't

yell? Is there anyone out there that has NEVER lost the plot and yelled? I just cant imagine it? Sometimes I will ask the girls something over and over and over and then it just bellows out before I even realise and there you have it, I HAVE yelled and guess what.....................they ALWAYS do what I ask once I have yelled. Have I, without realising, trained them to WAIT until I yell to actually do it?????

Oh I have decided I am dedicating this weekend to R&R, and in good faith have

kickstarted

that idea by getting all the housework done tonight, floors,

vaccuming

, dusting - its done!

A new book is high on my list of priorities for the weekend followed by some relaxing bath salts or something, new tweezers to attack the shabby brows and maybe a splash of colour in the hair and on the toes! A spot of clothes shopping may be the order of the day as well. I will have to take my poor puppy for a walk on the beach, I know she tends to get lonely during the week and I really SHOULD take her on the morning walks with me and the twins, but really at 5.30am I am so damn bleary I cant face a hyperactive

labrador

jumping all over me and doing a

kamakazee

lap of the house before I pin her down and get the lead on. Emily takes her for a walk every afternoon and more often then not I am bowled over by excitable

labrador

as I am getting of the bus each afternoon. I am often amazed that Emily

can

even handle her but she does seem to have more control over Milly than anyone else.

Of course no weekend would be complete without a trip to see my beautiful grand-daughter! Oh she is just an absolute treasure and I consider time with her to be R&R as well. I so wish I had just relaxed and enjoyed my own as much as I am enjoying time with Beth. I have my first official ALL WEEKEND babysitting coming up in July, I promised Danielle I would have her for the weekend of her birthday.

Here is my latest picture of the angel, with Emily (my cookie girl).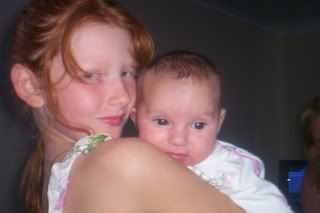 Photobucket" border="0">