After a week of tension leading up to Easter with ratty argumentative children I was surprised to find that we managed to pack, clean up the house and leave at around 9am with little fuss and fanfare.

Its about a four hour trip from where we live to Hobart, so a stop along the way was in order, our first is a regular for us at
Elizabeth Town Bakery
A fantastic Bakery, with the yummiest selection of food, excellent clean amenities and best of all staff that are always happy and enjoying what they are doing.

Ours was a short stop, a coffee to go was all we wanted and it was lovely, I really enjoy a nice Grinders Coffee

The girls where in fact very good for the drive, certainly showing their ages now and with it their ability to manage a road trip. They had some puzzle books, books and each other to keep amused along the way, and all managed a nap or two as well!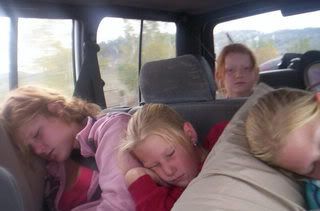 We finally arrived in Hobart and found our apartment with the minimum of fuss, now I had decided on this unit via the Internet with the help of a friend and was absolutely delighted with it. The price was more than reasonable as they have a set family rate ($109/night per family for the deluxe unit) and don't charge that additional $10-15 per child or such silliness which always leaves me feeling quite poor!

The owners where extremely non-intrusive which I really like when I am staying somewhere, the unit and location was just perfect for us and I cant imagine we will stay anywhere else when we are in Hobart again.
Lindisfarne Unit

On arrival Emily and I went for a quick walk to secure some lunch provisions as everyone was starving ~ we left them to unpack. Now just a word of warning if you ever stay here you actually have to turn RIGHT at the end of the street for the short 'stroll' to the shops,don't go LEFT it makes for a rather longer than anticipated walk.

Our afternoon was spent at Putters Mini Golf, now we played mini golf as a family once a few years ago and it was a disaster with the girls losing interest in minutes but this afternoons golfing was a completely different experience. Of course Samantha, Jessica and Emily have had some putting experience of late in their school holiday program but Iwasn't quite aware of just how seriously Samantha and Jessica took the game, it was quite funny.

I have decided that I am not the best putter in the world but it was certainly fun. We only had one calamity at around the ninth hole where Jessica wanted to argue, Sarah wanted to argue and with that I decided I was going home, no way was I spending a week with them fighting! We all recovered quite quickly and moved on to the next hole.

The winner of the afternoon was Samantha, her prize was deciding where we went for dinner!

Here are my little putters:

Sarah with her 'whack them hard attitude'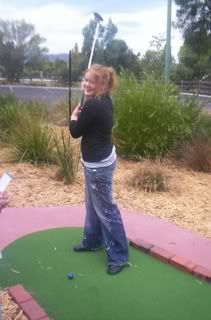 Samantha looking rather annoyed with me for disturbing her shot.


Jessica who is concentrating too much to strike a pose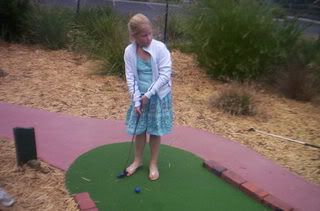 And Emily who ALWAYS has time for a photo



Samantha decided to go to Kings all you can eat Buffet for dinner, definitely something for everyone - Chinese, roasts, pasta, seafood, salads, desserts a large selection of food so very easy to keep everyone in the family happy.

The girls where a little food drunk by dessert and tried ice cream on prawn crackers which I am told is simply delicious, I wasn't convinced! After dinner we went back to the unit for a quiet evening, recovering from our too full tummies in preparation for the next days activities!