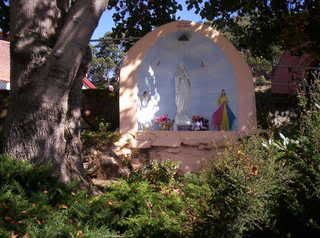 Now THAT is my Great Grandmother's Grotto. Sadly she passed away giving birth to her second child, leaving my Nana Pat in the care of her grand-parents and father. The family where devastated with her passing and her parents built this Grotto outside of the main Catholic Church in Burnie as her memorial. Her actual remains rest in the Burnie Cemetry at Wivonhoe near her parent who passed years later.
Apparently ALL of my Nana Pat's family used to live on this great North Western coast of Tasmania, including my Great-Great Uncle Wilf Campbell who is largely remembered as being an owner of the Burnie Hotel, for his large donations of land to the community and also the Wilf Campbell Memorial Lookout in Upper Burnie where a plaque honours him.
I of course being the estranged 'black sheep' of all things families, had no idea about any of this until about a year AFTER we moved to Tasmania and settled in this EXACT location that so many of my ancestors lived many, many years ago.
Incredible isn't it?