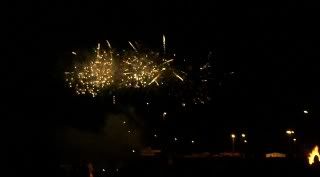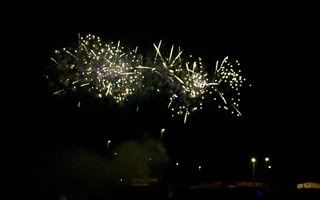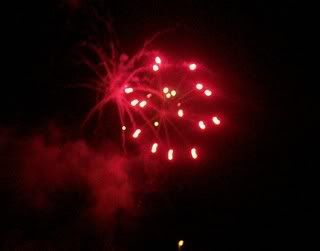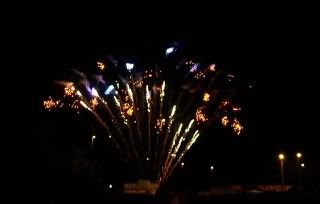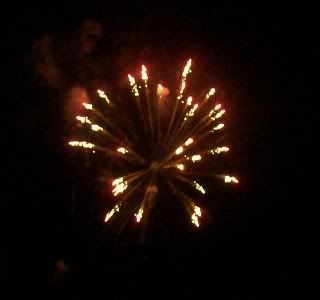 Some of the fireworks at Burnie's Children's Fireworks at 9.30pm on New Years Eve.
It really was a beautifully planned and presented event. Held on Burnie's foreshore the children's entertainment went from 5.30pm to 9.30pm when the fireworks where held. There was a band, jumping castle, face-painting, balloon making and various performers milling about.
At dusk on the beach there was a fire baton performance which was just brilliant. They also had some candle lit animal creations parading around.
Some pictures of fire girl though these are a bit hard to see clearly (I seriously suck at photos - sorry)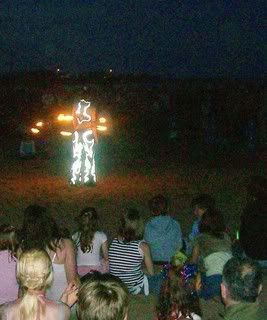 Yes! That is a ring of fire around her neck - crazy LOL.
Candle Lit Animal Creations (for want of a better name for them LOL)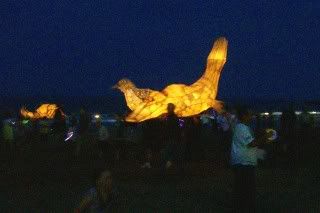 Some of the fab attractions earlier in the evening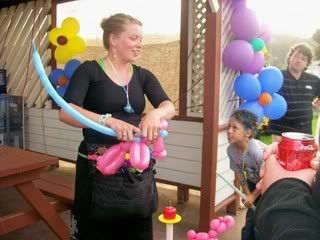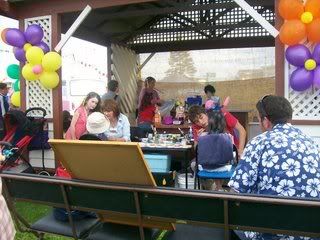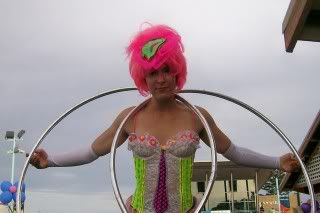 It was also an opportunity for Miss Emily to wear her pettiskirt! This skirt twirls like you wouldn't believe! Thanks so much Kylie for ordering it for us!
A picture of Sarah and I, she has been insisting on a lot of pictures of us together lately, I keep telling her my double chin isn't looking any better in them.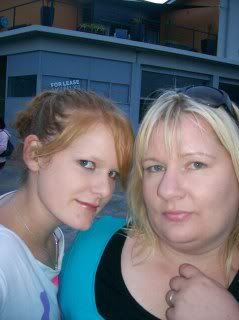 And finally my awesome foursome, I found this on my camera, a random shot they took themselves. (Danielle couldn't come because poor Beth has gastro (Blerk))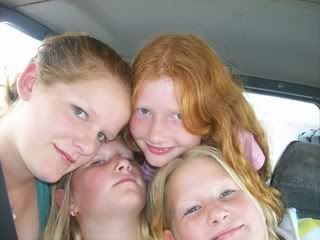 So that was it, Sam is at work of course (back late tommorrow night), the girls and I where at home by 10pm and safetly tucked up and asleep by about 11pm - yeah I know didn't even make the New Year in how sad is that!
Tommorow afternoon we are heading back up to my BIL's as my nephew is here from Adelaide for a couple of weeks.
We are having pork and chicken on a spit (oh YUM), roast veg and salads, seriously it sounds like just another Xmas dinner to me and I seriously cannot afford it. I think I have put on a couple of kgs since being on holidays, maybe the gym tomorrow morning will help ease my conscience.
Sam is meeting us up there, so sweet, I messaged him to tell him what we where doing and asked if he wanted to meet us up there and he replied with 'I would go anywhere if it meant I was going to see you' AWWWWWWWWWWWWW them is come to bed words me thinks - LOL.
Five days of holidays left and counting, eeekkkkkkkkkkkkkkkk.....